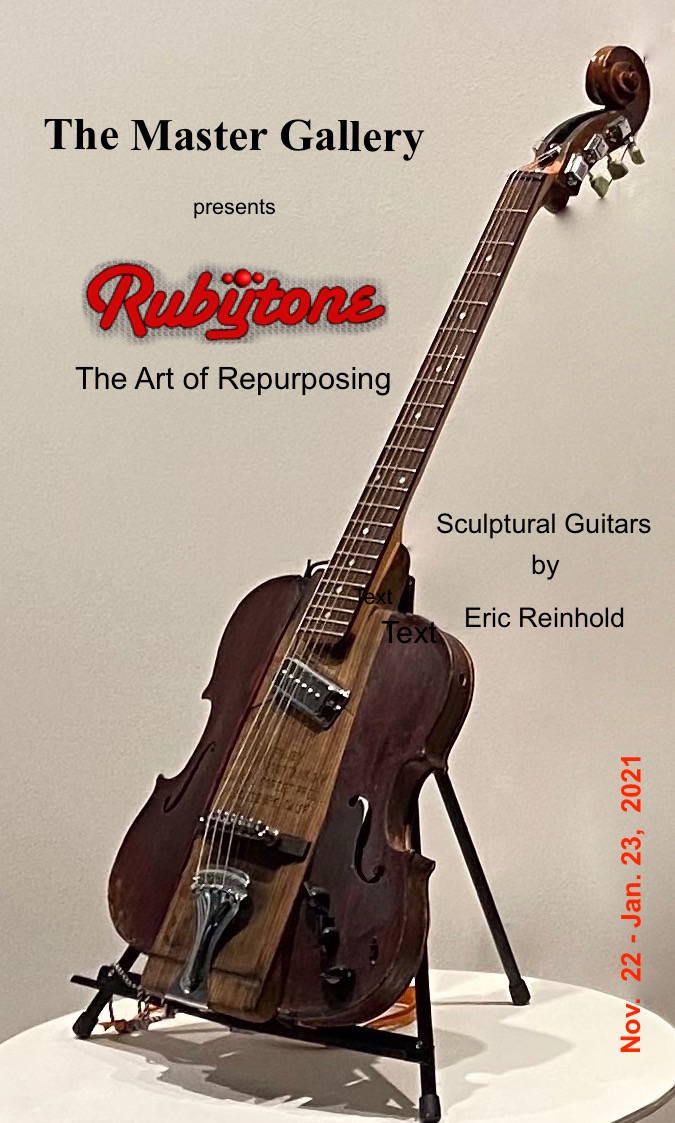 To the Residents of The Master,
The Master Gallery, in association with the Board of Directors, would like to invite you to a timed gallery opening of our current show, Rubytone: The Art of Repurposing this coming Sunday, November 22nd with pre-registered timed visits between 3-5pm. There will be 10 slots available for four 25-minute sessions on a first-come basis. You can pre-register to attend the reception for a 3pm, 3:30pm, 4pm or 4:30pm time slot. You will be asked to submit a COVID Symptom Survey and Attestation Form and a Liability Waiver in order to register to attend. Upon receipt of the Waiver and Attestation, we will send a confirmation email (or voicemail).
The artist, Eric Reinhold, will be in attendance in the Riverside Lobby (where we hold shareholder meetings) for a brief Q & A and to give a musical presentation. Attendance will be in small groups of 10 people, and for Master residents only. There will be no food or beverages served.
We ask that you arrive 15 minutes before your scheduled time to allow for confirming receipt of your documents and to take your body temperature with an infrared thermometer. No one will be permitted without signed Attestation and Waiver forms. To save time and to prevent congestion, we ask that you submit your signed paperwork to the front desk in advance. In the period before your scheduled time, after checking-in and having your temperature taken, you will be segregated from the general lobby population, socially distanced of course, in the Gallery area to have time to view the art. At your scheduled time you will be escorted into the Riverside Lobby where Eric will be seated on the stairs and 10 chairs will be socially distanced for his presentation. At the end of the presentation, attendees may exit the Riverside Lobby onto Riverside Drive or through the back service stairwell to the basement to access the elevators. We will sanitize the chairs between each 25-minute session.
We look forward to seeing you at the opening,
The Master Gallery & The Board of Directors
How To Register
To register for this event:
Print and sign the Covid Attestation and Liability  Waiver form attached and leave at the front desk with your preferred time.
OR
Ask for forms at the front desk, sign, and leave at the front desk with your preferred time.
OR
If you cannot sign up in-person, please leave a message with Dawn at reception and we will accommodate on a first come basis.
AND
PLEASE NOTE: There is only one person for each registration slot for a maximum of 10 people for each timed session. We will allow one stand-by person for each session. There is no guarantee the stand-by will be accommodated.
If you are late and there is a stand-by available your spot will be forfeited.  Please try to arrive 15 minutes early to facilitate a smooth intake so each session will stay on-time.
If you need to cancel, please notify the front desk ASAP so we can make the space available to another interested resident.
Registration will begin Monday, November 16. 
The Master Gallery
__________________________________