October 7, 2021 – January 30, 2022
Time Between Trains
Photographs by John Sanderson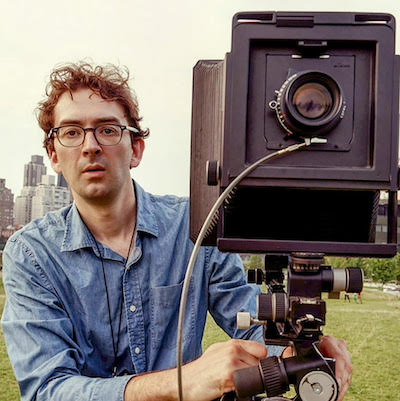 This selection of photographs pays tribute to the role the American Railroad plays in our national psyche. In my travels, the prodigious presence of the South Dakota Central, a majestic golden locomotive from the South Dakota Railway, caught my attention. I had previously mapped its location and planned for over a year to photograph it along with several other locations during a trip across the Great Plains.
The photograph of the South Dakota Central, seen here, was taken at the end of a long and fruitful day. I had planned my arrival for late afternoon. As I made my final approach, I encountered some nasty weather. The sky was near pitch-black and the rain was coming down in buckets; I was resigned to my fate. Eventually, after praying to St. Ansel and the gods of photography, the rain stopped. I grabbed my 8 x 10 and placed the camera in front of the locomotive. I shot one sheet out of fear – having traveled this far I didn't want to leave without something. I watched and waited, but time and the light were quickly running out. My prayers were answered when the skies cleared and the picture captured here is what unfolded in front of me. 
I photograph with a large 8 x 10 monorail film camera. The camera's movements allow for precise depth of field control and perspective correction, a technical advantage in creating 8 x 10 negatives that allows me to create a fine art print. The camera and tripod together weigh about 25 pounds.  Everything is manual, including inserting film holders, operating the shutter, and focusing using a darkcloth draped around the back of the camera. I wait for the light, and if the feeling is not right, I come back another day. There is
no substitute for time.
Photography allows me to capture these moments, and later, to return to them as I saw and experienced them at the time. I rediscover them in a myriad of new and unexpected ways. My focus is not about "getting the shot," but rather, on dwelling in a place and understanding it before taking the picture. 
Some of the tracks captured here are active and some are battered remnants of a bygone era. Time may be running out for these magnificent machines, but across decades, one discovers the majesty of these mythological creatures set within the beauty of the American landscape, in the time between trains.
John Sanderson