August 7 – November 4, 2014
Seasonal Change – Landscapes in Black, White and Color
Paintings by Yael Dresdner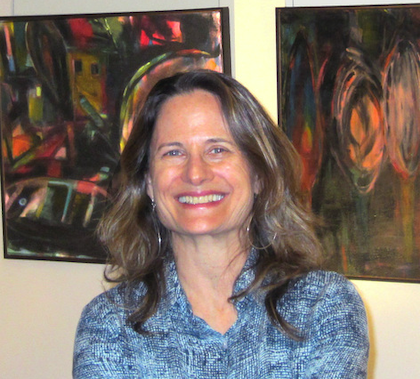 These paintings depict landscapes, but not in a traditional sense. They lack the most essential landscape attributes – they have no horizon line or formal perspective. Instead, they are created out of shapes in motion and the relationship between the different colors. Space materializes from the tension between elements that seem to exist on the surface of the painting and elements that visually recede deep into the canvas. These imagined landscapes evoke internal states and reflect forces of nature and change, with hints of human presence and influence. Shapes that suggest people, windows and homes emerge out of nature's chaos and co-exist with it.
 In Seasonal Change, White Water and White Thoughts, I try to maintain the purity the pigments by contrasting them with white, emitter of all colors, and black, absorber of all colors. They diverge into distinct elements, and then converge again to form a whole, thus adding movement. In general when I paint, I try to create various colors by mixing them with each other, not with white, so that they remain as pure and saturated as possible.
 The Snapshots in the Dark series is about capturing light. The inspiration for it came from several sources. The light-and-dark moments we see when driving past trees, and kindergarten art techniques: painting a paper plate with crayons in many bright colors; covering it all with black crayon; then drawing/scratching the black away to reveal the colors. They shimmer against the black.
 The subject of the series is landscapes of Provence, France, based on photos I took while traveling there.
 A native of Haifa, Israel, Yael Dresdner is an artist and designer living and working in New York City. She holds a BA in Visual Communications from George Washington University and has trained in drawing and painting at Art Students League and New York Studio School, New York, and Washington Studio School, Washington, DC. Yael's artwork has been exhibited as part of group shows in various venues and is in numerous private and corporate collections. Yael's design practice helps organizations find their voice and give it a visual expression.
                                                                                                                                                                                                                                        Yael Dresdner