April 28 – August 4, 2022
Urban Mix
Paintings by Roger Winter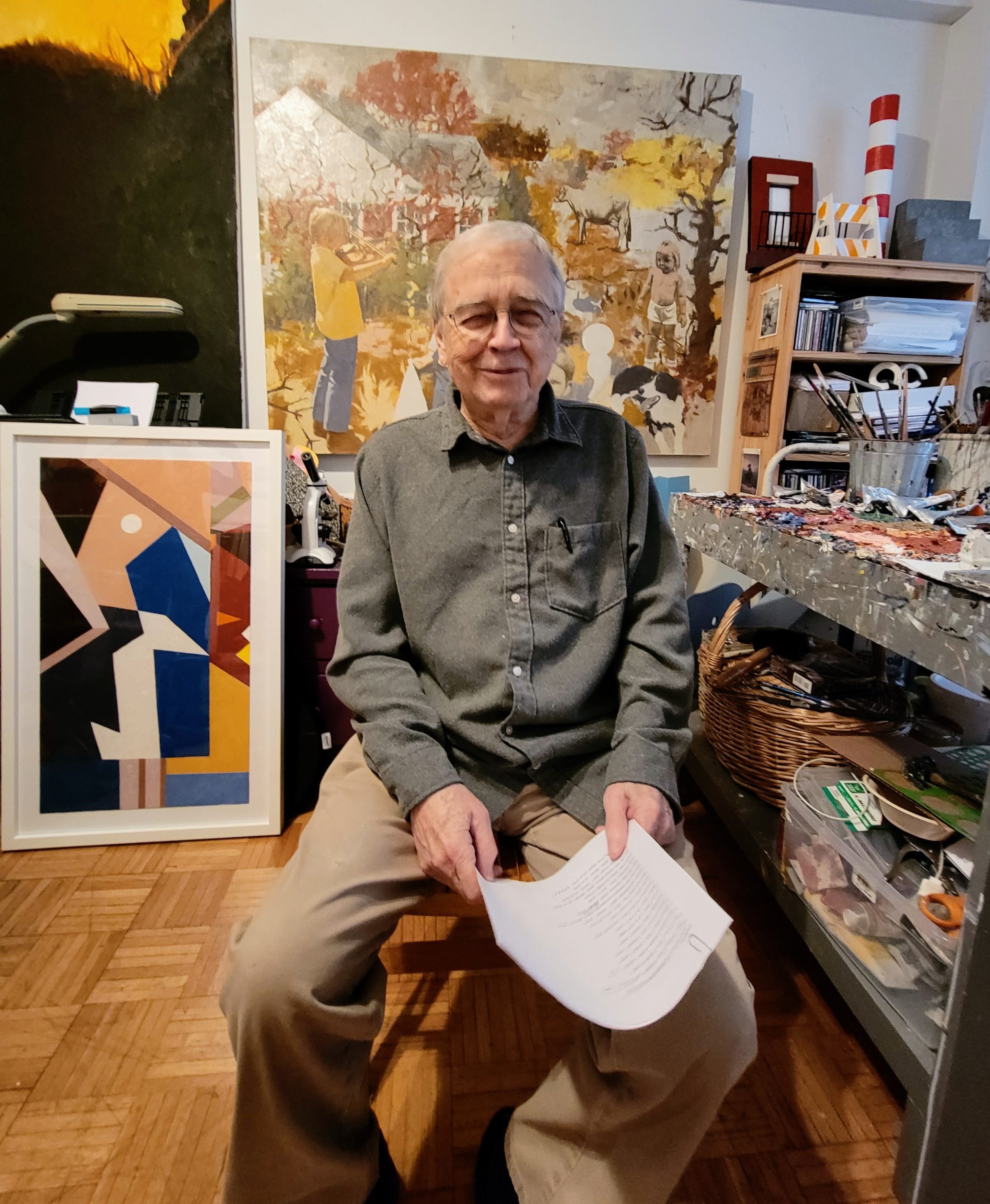 When my exhibition, "NYC Under Construction" opened in May of 2021 at the National Arts Club, I had twenty or so paintings on museum board, all of New York subjects, left in my studio. These were works I had chosen not to include in the show. One day I decided to place a few of them randomly overlapping each other on the floor. I liked what I saw. I took photos of this accidental arrangement from several viewpoints and chose one to use as the basis of a painting. That first painting ("A-Line") encouraged me to keep the process going for ten or twelve paintings, a few of them on stretched linen. Between these works, I began another idea that has become the subject of my most recent paintings. I started building small models, from museum board and thin wood, of functional objects I see every day in New York – cast concrete steps, steam pipes, iron picket fences, barriers, windows set in brownstone – I have hopes of building several others.
As a graduate student at the University of Iowa, I learned of the soft wax models that Nicolas Poussin built for each figure in some of his beautifully structured paintings. He would drape the figures in cloth to suggest the folds of clothing. The figures were arranged in a large box with sliding doors so light could be controlled to his liking. Obviously natural light! His box and models were called his "grand machine," at least by later historians. Then Poussin would make a drawing of his arrangement for the next stage of his painting. Having always had a penchant for working from models of one sort or another, this approach Poussin sometimes used has fascinated me for many, many years. When my wife and sons and I lived near Bath in England during a sabbatical leave, more than once I took a bus into London to spend half a day in the Poussin rooms at the National Gallery. My favorite painting was, and still is, "The Adoration Of The Golden Calf."
My painting on the postcard/invitation, "Still Life With Added Moon," is the closest I've ever managed to approach the method of "the grand machine."
Roger Winter
The Ides of March 2022
roger.winter@earthlink.net
Opening Night
The opening of  Roger's show represented a return to in-person gatherings at the Master Gallery.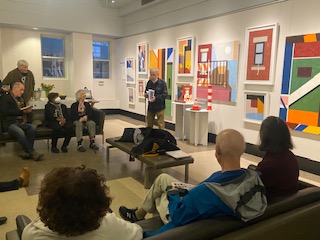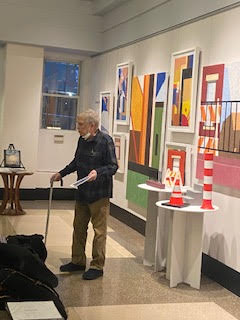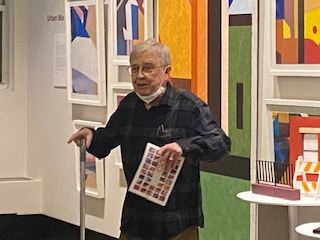 Artwork
The show consisted of 20 paintings and six sculptural pieces that Roger used as models for a few of his paintings.