November 22, 2020 – February 21, 2021
The Art of Repurposing
Sculptural Guitars by Eric Reinhold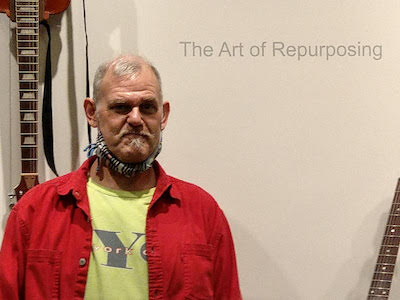 This pandemic art project began, as most stories do, many years ago. The unencumbered time during the lockdown presented an opportunity to make art full-time and currently, making electric guitars is my passion. I repurpose a diverse array of materials to fashion functional art in the form of musical sculptures.
My sense of repurposing is only matched by the satisfaction of "Do It Yourself."
In Gillett, Wisconsin, watching my father build a fast-moving riding lawnmower from various auto parts and other things was an inspiration. If a pair of pants was past the point of wearing, my mother would put them away for patching other clothes. My mentors taught me to first use whatever material was available in the workshop to satisfy the project's needs. This 'waste not, want not' principle was instilled in me at a young age. It was my grandfather, Ruby, who most willingly encouraged taking the extra time to make something look good as long as it was functional. His loving attitude inspired the name Rubÿtone as the brand name for my guitars.
Later in Oshkosh, Wisconsin, while studying for my BFA in fine art and functional design, I had a professor who explained that as an artist you may have 50 projects in progress, but only one should be on your workbench. He instilled in me the discipline of constantly gathering material for other projects but each one should have its own storage bin as a placeholder for the idea.
Currently, in my New Jersey workshop, some of my bins contain parts, and others contain guitars partially assembled, or broken down, waiting to be reimagined and repurposed into different musical sculptures. This process is ever-evolving, whereby I am constantly collecting, storing, and reusing parts to create guitars. During #stayhome I started twelve new projects and ten of them are here in the gallery.
I am always in the middle of building a better guitar, usually more than one. I am almost always playing one on my way to work and back. The necessity of it being a lightweight and small guitar for traveling challenged me to create a new functional object but it also provided the initial inspiration for what has come to be an ongoing passion for creating and perfecting a guitar that is refreshing to look at, easy to use, and beautiful sounding.
Eric Reinhold
Use arrows to see all slides.