July 30 – October 24, 2020
Großstadt
Paintings by Riccardo Vecchio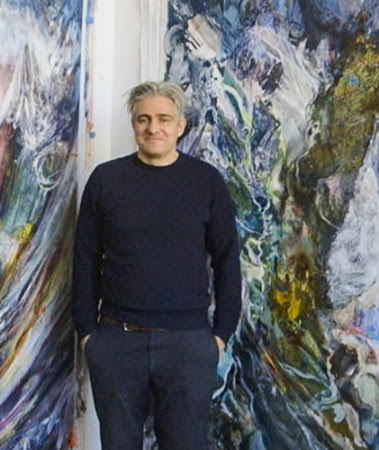 The object of these works is to develop a visual symbolism that allows me to depict a location as an evocation of memory. I am not interested in abstracting or deconstructing to the point of non-recognition. I am interested in freeing elements from their functionality while maintaining the impact of that functionality. I did not start by trying to make a statement about the human condition, but the memory I am trying to portray is a result of human interactions. Despite this being a formal working approach, it is formalism serving a concern to reveal the outer world as an aspect of humanity.
I consciously avoid working from one reference image or photograph, but use geometry to create, skew, and distort perspective, allowing vistas that do not exist in nature. I can enhance, or in some instances, purposely falsify the storytelling effect on my canvas in order to encourage new visual experiences, freeing viewers from any preconceived notions.
The result is not an immediately recognizable skyline or another famous site that might stir up a sense of unwitting local patriotism. Instead, it is an amalgam of one's visual experience, a patchwork of sequences and memories which can maintain the impact of its intended function.
As I write this, the Covid-19 pandemic has loosened its grip on NYC, but not before highlighting and exacerbating the grave inequality in our society.
Looking at my cityscape now, I am reminded of how during our recent quarantine, the city felt eerily silent, yet filled with beautiful architectural landscapes for us to marvel. Then, suddenly, the empty streets gave way to shouts of "I can't breathe;" "black lives matter;" and, "no justice, no peace." Once again, I am drawn in, this time searching to find myself in these imagined streets, this imaginary Großstadt, sign-in-hand, ready to march.
                                                                                                                                                                                                                                    Riccardo Vecchio