January 30 – April 25, 2020
Capturant la Lumière
Watercolors by Pierre Folliet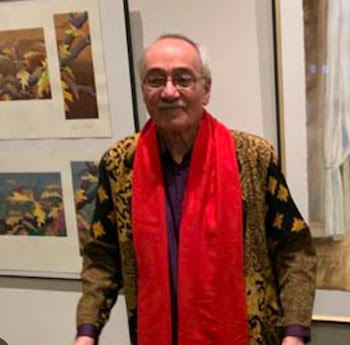 Capturant la Lumière, Catching the Light, is a selection of recent works, mostly views from my studio, overlooking New York's Riverside Park as seen in the central painting of this show, Vista. I like working from direct observation and my primary inspiration is nature as reflected in some of my exhibition's titles, Parks and Blooms (2008), Landscapes (1999), or Seasons (1990). My favorite medium is watercolor which I like for its transparency, brilliance of color and technical rigor. From my balcony overlooking Riverside Park, I will often concentrate on the same view, painting it at different times of the day, catching the ever-changing light and the different color palette of the seasons. My overall aim is to capture moments of complete immersion in the different moods of nature, like the calm serenity of a bright winter morning or the agitated and brusque sky of a stormy summer afternoon. In my journey to find a more complete form of expression, I will combine one of my images with text as seen in Japanese scrolls to create seasonal HAIKUS and TANKAS.
I am drawn to these traditional Japanese forms of poetry for their rigorous structure and their ability to render the moment in vivid brush strokes. But first, I start with the paper and the paint to capture the light.
                                                                                                                                                                                                                                            Pierre Folliet
Pierre Folliet Bio (click circle on right to open/close)
French-born Pierre Folliet studied at the University of Minnesota's School of Architecture, where he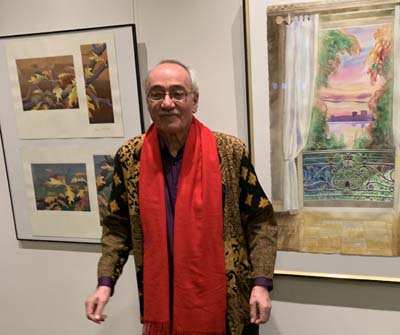 received a Master of Architecture in 1968.
He worked at Gruzen and Partners in New York as a designer for the Montana, the Novotel, the Dag Hammarskjold Towe, and at MG Design for the Lippo Plaza tower in Shanghai.
As a painter, he has had numerous one-man shows in New York and Paris.
To view his artwork, please visit his website: pierrefolliet.wix.com/pierre-folliet-art