With the launch of The Master Gallery in the newly renovated main lobby, Master Apartments returns to its original mission of fostering and supporting the arts. The first exhibition in the Gallery's Renaissance in Art series displays the paintings of Alex Zwarenstein, a one-time resident artist of the Master. The exhibition features six of Zwarenstein's oil paintings
.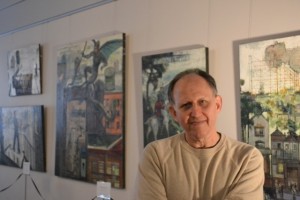 The Gallery hopes to rotate works of art quarterly. Two other artists are in line already to exhibit their work through the end of the year. Phase two of the Renaissance in Art project will transform the Riverside lobby into a gallery exhibiting historical artifacts of The Master and reproductions of the Nicholas Roerich paintings that once hung in the now defunct Roerich Museum.
The Master was designed in 1928 by Harvey Wiley Corbett for financier and philanthropist Louis Horch. The building, a 28-story skyscraper, housed the Master Institute of United Arts, a creation of Nicholas Roerich, a Russian painter, architect, and set designer. The Institute was previously housed in a mansion at 310 Riverside Drive. The mansion was razed and the Roerich Museum was installed in the The Master upon its completion in 1929. In addition to the museum, the building once contained galleries, conference rooms, a theater, exhibition halls, a restaurant and two libraries.